Entrance Hall

There are two entrances to Yokohama Minato Mirai Hall. First, there is the main seaside entrance facing the broad avenue overlooking the Pacifico Yokohama convention complex and the Yokohama Ferris Wheel. Then there is the mall entrance, which is directly connected to the Queen's Square Yokohama shopping and office complex and provides easy access to Minatomirai Station. When you first arrive at Yokohama Minato Mirai Hall, you are greeted by the entrance lobby. The comfortable atmosphere in the space enables you to enjoy a relaxed time before the concert starts in the small or main hall.

When you enter via the mall entrance, you encounter Tamura Noriko's An Air for All Seasons, an expansive mural that covers both walls. The 12 muses depicted in the work escort you into the world of music. By all means, take a minute to look examine at the mural before or after the concert.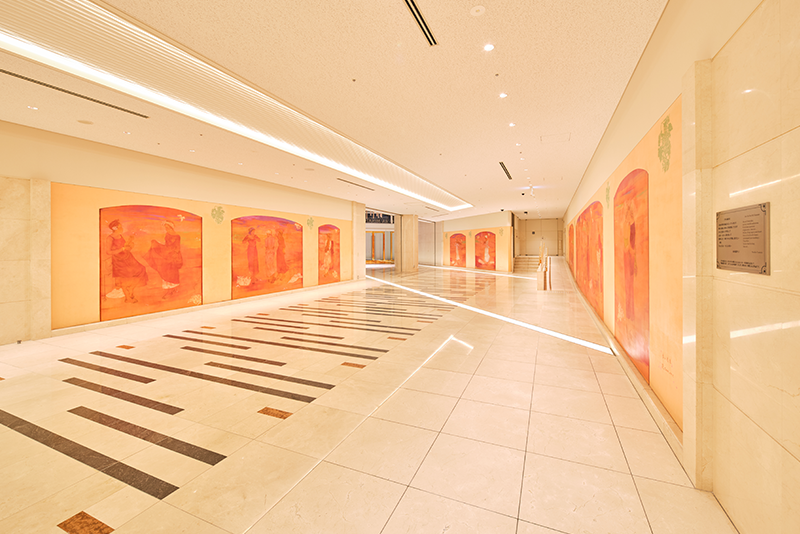 Tamura Noriko's An Air for All Seasons
Tamura is one of Japan's preeminent muralists. Since her first work in the Xi'an Garden Hotel in Tang Hua, China, Tamura has created over 50 murals installed at sites such as the Nakayama Racecourse, the Asuka passenger boat, Nagoya Central Towers, Ome Keiyu Hospital, Terumo Corporation, Fancl Ginza Square, and some fusuma sliding doors at sub-temples within Tenryu-ji Temple and Hogon-in Temple in Kyoto's Arashiyama district.

An Air for All Seasons was gifted to the City of Yokohama by the artist to commemorate the completion of Yokohama Minato Mirai Hall in 1998.